Photo of the research group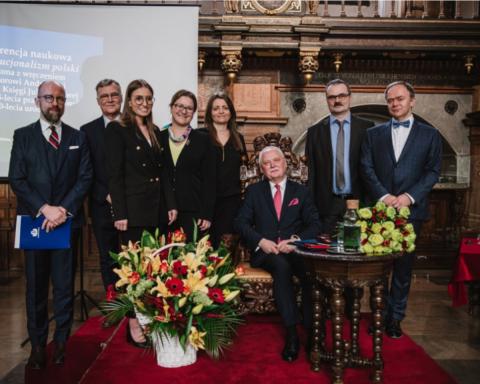 Faculty/school/department
Faculty of Law and Administration. Department of Constitutional Law and Political Institutions
Composition of Joint Unit of Research, if relevant
Assoc. Prof. Krzysztof Grajewski, DSc
Assoc. Prof. Anna Rytel-Warzocha, DSc
Assoc. Prof. Piotr Uziębło, DSc
Assoc. Prof. Marcin M. Wiszowaty, DSc
Agnieszka Gajda, PhD
Aleksandra Szydzik 
Short description of research profile
The main area of ​​research for the entire research group are the following issues: direct / participatory / deliberative democracy - both in general and in relation to specific institutions, such as: national and local referendum, civic legislative initiative, civic budget, citizens' assemblies or re-call. The team also conducts research on various aspects of the judiciary.
Individual team members also conduct individual research - often in collaboration with foreign researchers - on other topics, such as:
- Krzysztof Grajewski: legal status of a deputy and senator, constitutional responsibility;
- Anna Rytel-Warzocha: constitutional review (especially in Central-Eastern and Northern Europe);
- Piotr Uziębło: Electoral law, Direct Democracy, political systems of South America;
- Marcin M. Wiszowaty: legal regulation of Lobbying, contemporary Constitutional Monarchies, Parliamentary law and Law-making process (e.g. impact assessment, public consultation, interest groups), President – the functions, Powers and position in political system, Institutions of direct democracy, Diplomatic protocol, Law regulation of heraldry, Phaleristics, Nobiliary law (contemporary remains)
- Agnieszka Gajda: supervision of the Minister of Justice over the courts, constitutional rights and freedoms;
- Aleksandra Szydzik: established jurisprudence as a source of law.
Scientific Themes (keywords)